Ke10 Disk Brake Conversion
From Rollaclub
Okay guys I've had a few people ask me how I went about KE20 disks on my KE10.
So yesterday and today when i converted my KE10 to KE70 brakes i took some photo's.
I know there's already a write up in FAQ but this is more a noob based guide.

Okay, So before you go ahead and do the conversion, you have options. Which brakes do you want to use?
KE20: Smaller brakes, Older, 4x110 Stud pattern - Will fit your original 12" wheels
KE30: A little larger, 4x114.3 (KE70 stud pattern) unsure of if 12's will fit, Doubtful
KE70: The same as ke55, Thicker than KE30 with Girlock brake calipers. 4x114.3

Here's a point though, the hubs are interchangeable, So you can put the KE20 4x110 (Early stud pattern) hub on the ke70 brakes, and run your existing wheels (Granted they fit over the brakes)

Another point to make here is, Buy ke55 struts if you can. I bought ke70 ones for the brakes only to discover the backing plates are different. Ke55's have the same brakes so you may as well go for them, if not just try and get the ke55 backing plates and caliper mounts.

Left is KE70 right is Ke55. See the bolt pattern difference?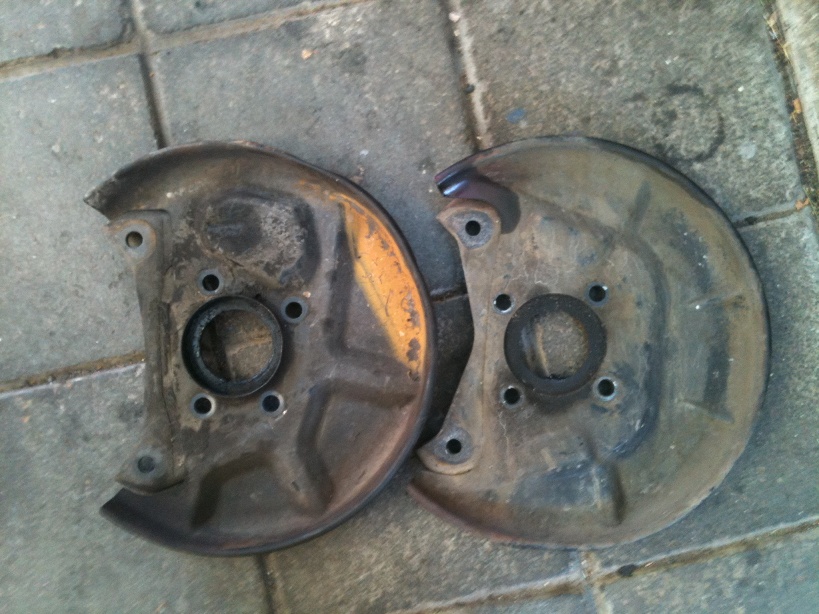 KE20 Brakes
Okay. So, You've chosen KE20 brakes, You ripper!
You'll need the KE20 disks packed with ke10 rear bearings, and use the KE20 front bearing.
The beauty with KE20 brakes is the strut doesn't have to be drilled or tapped out.
To go ahead with the conversion on the ke10, Strip off all the drum brake gear, down to the bare strut.
Should look like this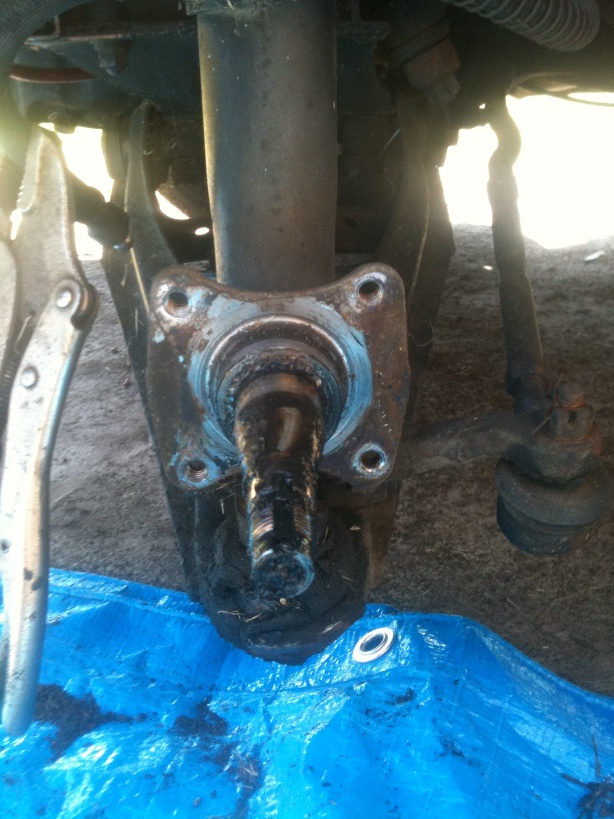 The next thing to do is to bolt the ke20 dustshield and caliper mount onto the strut. Simply using the 4 bolts.

Now, You'll want to take the ke20 disk and hub assembly (with a ke10 rear bearing) And slide it onto the axle
(Sorry, Haven't got a photo without it bolted up)

Fit the ke20 front bearing by simply pushing it in. Next you'll need to screw on and tighten the nut you can see in the photo. What you can see is a ke20 nut and a split pin to hold it together. (just use new split pins)
Check that there's no play in the bearings or assembly by moving it side to side and spinning it.

Next, Fitting the caliper. This simply bolts onto the two holes you can see on the dustshield/ mount.
Now simply connect the KE10 brake hose to the KE20 caliper and you're away! Bleed it up and check there's no play or slop But that's about it!
KE70 Brakes
Now for KE70 Conversion.
Essentially the same but you'll need to drill and tap the mounts on the strut (Will explain when we get there)

Once again, Start from a bare strut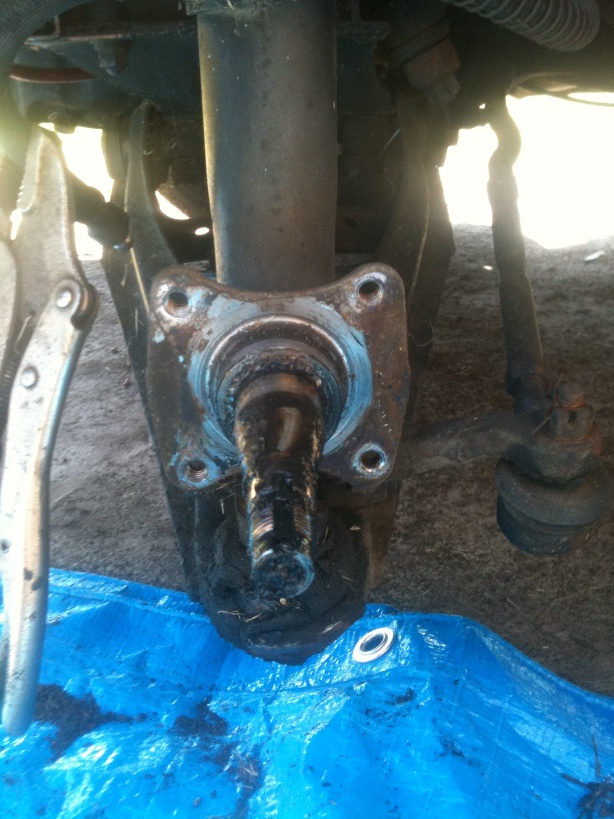 Now, You have to drill and tap those 4 holes to M10x1.25 to use the KE55/70 bracket bolts. The tap i bought to do this suggested a 8.9mm drill bit. I used an 8.5 and then an 11/32? And got a perfect result.
[[File:Ke10_Disk_Brake_Conversion_7.JPG
Here's just showing how i tapped out the holes:

Now the dustshield should simply just bolt on

Here's the KE70 rotor and hub, with a KE10 rear bearing using the KE70 seal (The KE10 seal doesn't fit tight in the '70 hub)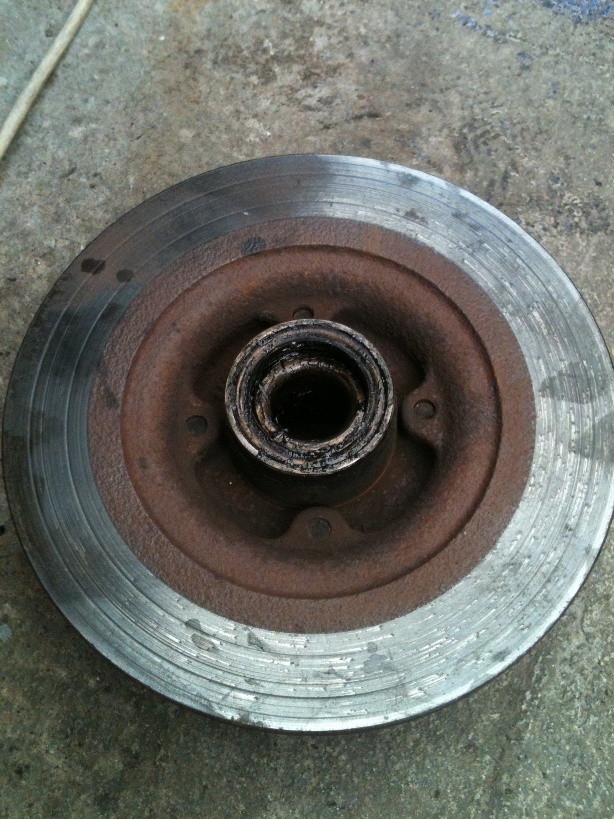 Again, Simply slide it onto the axle
I used a ke70 front bearing this time, works fine. I had issue's once again with the nut and split pin combo, i ended up using the ke20 one again and it seems fine.

Once again just check for play and wobble. The caliper just then bolts on the same once again as the ke20 one, 2 bolts.

Now the last thing is brake hose. I assume either a KE55 or a KE70 one will work but i haven't messed around with hoses yet i just wanted it rolling.
So that's it! Easy isn't it? Now you have no excuse not to do it yourself
Also, my KE55 dust shield JUST touches my steering arm, but it won't hurt as it moves with it.
Any questions or additions to this just ask!
---
This article was originally on the forums here: http://www.rollaclub.com/board/topic/57067-faq-how-to-disk-brake-a-ke1x/