Tech:Engine/K Series/Alternator
From Rollaclub
There are two basic types of alternator used on K motors. They are fully interchangeable, as long as you get the accompanying top and bottom brackets.
The Denso manufactured unit is the japanese production alternator. It's a 35A three-phase unit with an external regulator, quite limiting once you start to add goodies that steal your ignition voltage (90/100 headlights, gauges, etc). The later Bosch alternator is a bit better, it supplies 40A and has an internal regulator, so your engine bay looks neater and you don't have to worry about wiring during a transplant. In my experience, you usually find Denso alternators on early models (KE1x, 2x, 3x) and Bosch ones on later models (KE5x, 7x) but this is not always the case.
However, here's the beauty part. Bosch design all their alternators with the same rear housing, just with different front housings to suit the motor they are intended for. So you can buy yourself a 60A Ford Falcon alternator, or an 80A VL Turbo alternator, and rebuild it with a Bosch KE front housing and longer stator bolts, and whack it straight onto your K motor. If you want to underdrive the alternator (say you're bulding a big-rpm race motor) use a Mitsubishi Sigma front pulley.
The charge wire through the wiring loom is also quite small, at most it could supply maybe 30A. It is recommended that once you start upgrading bits, disconnect the charge wire to the loom and run a thick wire from the B pole of the alternator to the + of the battery. If you do this, and have an alternator with an external regulator, don't forget to wire the applicable regulator terminal back up to the B pole (look at a wiring diagram) or your alternator will overcharge and your battery could explode!
Note: Justin recommends 6 B&S cable between the B+ terminal and your battery terminal.
Note: Bosch also makes an Externally Regulated alternator. Don't assume that because it is Bosch, it is Internally regulated, I found out the hard way. The difference externally is the black or brown regulator vs the brush box (white).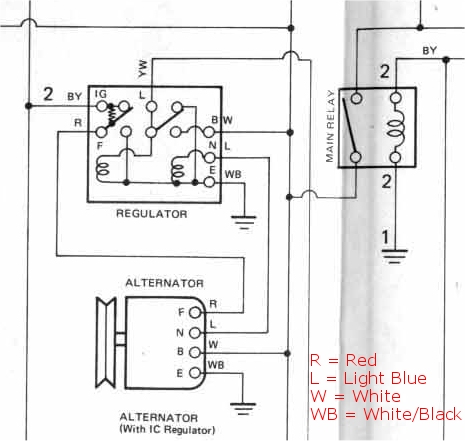 See also:
---
Article by Superjamie / Medicine_Man
---

Back to K Series
Back to Main Page